Angela Lampkin
Educare School Director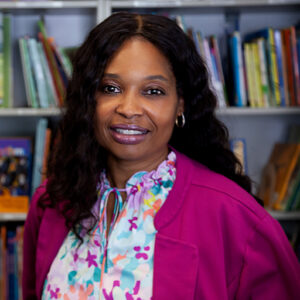 Angela oversees the day-to-day operations of Start Early's directly operated Head Start and Early Head Start school, Educare Chicago.
She has worked in the field of Early Learning and Care for the past 31 years. Prior to joining Start Early, Angela was the Head Start Director for a large Head Start grantee in Wisconsin that served over 1,400 children. In Angela's career, she has had the privilege of opening a Milwaukee Parental Choice School, assisted two early childhood programs to achieve accreditation through the National Association for the Education of Young Children (NAEYC). She also served on accreditation teams for NAEYC and AdvancEd. Under Angela's leadership, Educare Milwaukee was one of three early childhood programs in Wisconsin that scored a perfect score on the state's quality rating and improvement system, YoungStar.
She currently serves on the Region D Community Board of Family Connects Chicago and is the Content Area Expert for the Illinois Head Start Association's Quality Enrichment Circle for Site Directors. Angela holds a master's degree in Educational Leadership, an Erikson Infant Toddler Graduate Credential, and an Illinois Gateways to Opportunity Director 3 Credential.
Angela lives in Lemont, Illinois with her husband, Robert, and two children, Reagan and Rashad.